TOPTOTE HAT HOLDERS
Welcome to the home of the original US Patented TOPTOTE hat clip and to the world of NEVER having to carry your hat in your hand again! We know the struggle is real when traveling with your hat and we believe there are many more important things you should be carrying in your hand and we're thrilled to make your life easier. We promise you'll thank us!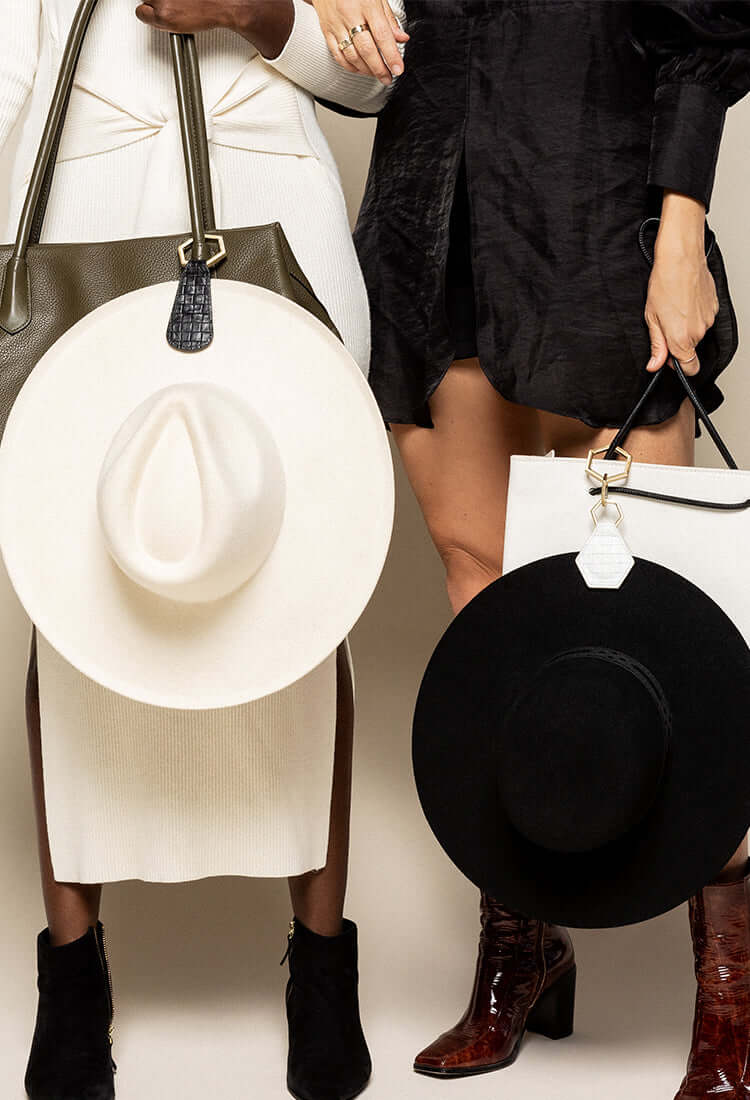 Story behind the toptote hat clip
You may or may not know this but before inventing the TOPTOTE hat clip, Lindsay Albanese was traveling the world as a Celebrity Fashion Stylist working on some of the most prestigious Hollywood productions and with some of the biggest celebrities in the entertainment industry.
It was during this journey that she realized that traveling with her hat was a big annoyance. Wear two on your head, hold them in your hand, crush them in a suitcase- ah, just leave them at home! Not only was she traveling with her own hats, many times she would be carrying her clients hats as well!
"There has to be a better way", she thought. And after researching she realized there wasn't any hat carrying products out there other than the hat box (who uses those??) and this reality sparked inspiration in her that made her realize she had to invent the solution.
After many drawings, debates with her husband, and various failed samples later she finally came up with the fundamentally obvious and simplistic concept: a magnetic hat holder that attaches to your bag or luggage, clips to the brim of your hat, and allows you to FINALLY travel with your hat hands free. Oh and it has to be stylish and not gimmicky (very important!) It was such a seemingly simple concept and to her surprise, had never been invented before!!
From there she realized she needed to US patent this brilliant little hat clip idea and a year after filing her idea her lawyer called and said, "Your Patent was approved!" Lindsay screamed so loud she thinks she startled her lawyer, haha!
And the journey continued from there. Lindsay self funded the launch of her brand with what is now famously called, TOPTOTE with her life savings and from there has continued to launch serviceable products that make your life easier.
MORE WAYS TO STYLE
That perfect balance of style and function is at the forefront of our minds whenever we design our TOPTOTE hat clip collections. We know you appreciate nice things and you don't want to sacrifice sophistication for a gimmicky travel product. That's why everything down to our signature hexagon clasps are designed so that they not only effortlessly carry your hat, but also look like an elevated fashion accessory on your bag when not in use.